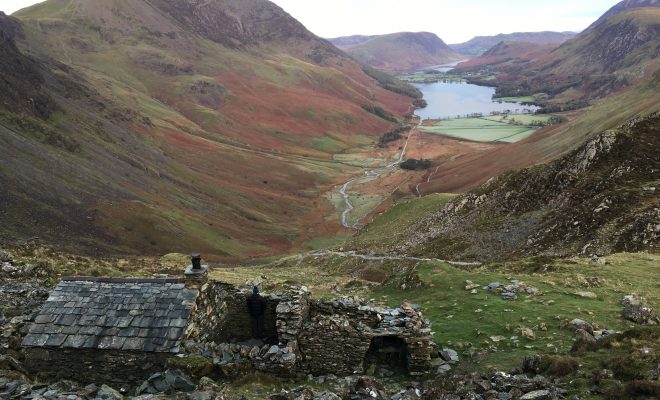 A Night In Warnscale Bothy
|
The good people at the Mountain Bothies Association do an exceptional job.
They are an organisation 'who maintain simple shelters in remote country for the use & benefit of all who love wild & lonely places'.
It had long been an ambition of mine to take in a night in a Bothy – sleeping somewhere rather remote and warmer than my usual bivvy spots.
Warnscale fit that bill as it wasn't that far to travel, compared to those in Scotland for instance, and I'd heard the view from the window was worth the trek in alone.
And right those people are.
The route to the Bothy is up the track from Honister, walking past and down Dubs Hut (another bothy), crossing the river and then climbing up to Warnscale Bothy itself.
It's a steep walk in – especially if you've been out the night before, as was my excuse anyway – but the views and the bothy are more than worth it.
I packed my usual bivvy kit, some decent whiskey and some wood as the night was bound to be cold.
Now… Warnscale is a popular place and on approach there were a number of photographers there taking in what is a well-known picture in the Lakes.
It also has been visited by Alistair Humphries and therefore you're hardly ever going to get it to yourself. In fact, checking out the visitor book inside, there's hardly a night all year round it isn't used.
This time a there were two chaps called Nige and Steven who were bedded down for the night too.
That could have been awkward but they were decent guys and we chatted the night away… well, until the wood ran out!
That's when the Bothy's mouse made an appearance – gnawing through Nige's pack when he was asleep and tucking into some Bombay Mix.
The morning brought a welcome respite from the cold (when will I ever get the lower half of me warm on a sleep out) and a walk down to Buttermere.
That's when my mate Johnny Hartnell took a dip in the lake (about 12 degrees it was he tells me) and we wandered into the village for a pint.
A quick bus back up to Honister and it was job done, one ticked off the list.
But it wasn't a tick-off experience. That wasn't the point. It was getting outdoors and trying to reconnect for a bit. Did I do that? Close… but it's paved the way for more.
The Trip:
The Music:
As a bit of a folkie I've been trying to expand who I listen to but more often than not fall back to alternative Americana act Richmond Fontaine.
They give me a sense of comfort; a sense of self that I struggle to connect with with other acts.
Another band that does similar is the Susie Jones Band and it was whilst travelling to Warnscale that they appeared on my 'shuffle'.
I'd been pretty impressed with 'Shake Away The Devil' a couple of years back and particularly the melodic 'Chances We Take' so I reacquainted myself with their back catalogue and came across 'Once In A While' from the Hear It My Way EP.
It's a cracker and the 'reprise' version fit perfectly with the video.
I thank them massively for letting me use it.
Check them out here.