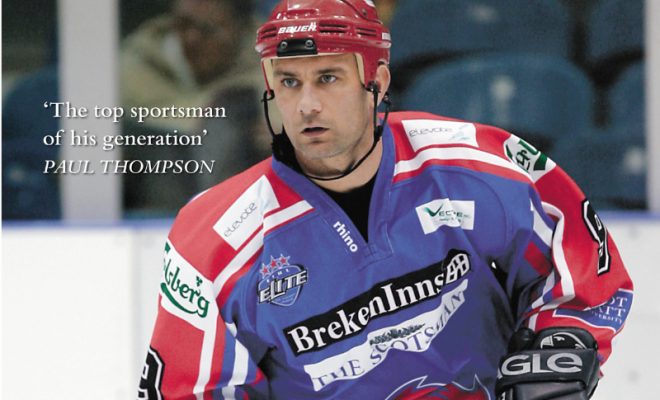 Get A Hand At Christmas!
|
Tony Hand… British Ice Hockey legend. First Brit drafted to the NHL, highest points scorer in the British game. Honoured by the Queen.
Who wouldn't want to read about that!
Tony Hand MBE – A Life In British Ice Hockey, tells the story of quite simply the UK's greatest ever player.
It starts with him growing up on a council estate in Edinburgh and playing his first senior game at the tender age of fourteen for the Murrayfield Racers to training with the Edmonton Oilers in the NHL and landing the grand slam with the Sheffield Steelers.
In his own words, Tony takes you through his life from winning and losing at Wembley to the highs and lows with the GB national team. Tony has coached Belfast, Dundee Stars (whom he took to a league and play-off double) and Edinburgh and is now with Manchester Phoenix. Find out why he didn't take up Edmonton's offer to stay in the NHL, what really happens on a European tour and why he was banned for taking a cold remedy. Savvy, witty and often controversial, Tony pulls no punches in describing his time in ice hockey and outlining how the sport should move forward.
The Book is now available in the Mascarandy Online Store – and are in stock (unlike some other online retailers!)
For a limited time only both are cheaper than Amazon too – and we offer free shipping to UK addresses.
And, until December 13 you can get 10 per cent off in the store by using the code xmas10 at the checkout!