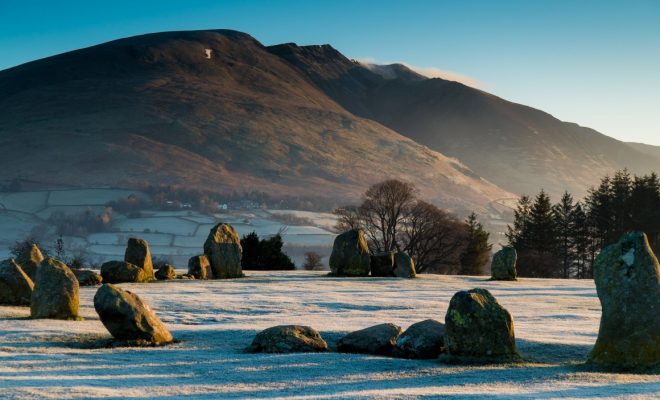 Terry Abraham
Life Of A Mountain: Blencathra
|
I must confess I have a penchant for films involving mountains, climbers, characters and the great outdoors. 
They are usually away from the mainstream, lower budget than normal 'features' and allow the filmmaker and viewer the chance to get more involved in what is happening in the wild.
They also seem more real to me with documentaries in particular opening a door into a world that many of us don't see or understand.
Terry Abraham has been pushing this form since his first 'movie' The Cairngorms in Winter.
I have an affection for this programme as it saved my soul, the life of my cat and probably, at the very least, any bits of crockery that could have been smashed within a short radius
Liverpool were playing my team Everton at Anfield a couple of years ago and I had a funny feeling things wouldn't go our way. I downloaded Cairngorms, popped in my earphones and went away for just over an hour and half. I was transported, via a magnificent soundtrack, into Britain's artic with Chris Townsend, stunning scenery and an even better presentation from Abraham.
As the final credits rolled, I flipped on BBC Sport and swore several times at what I saw. Liverpool 4 Everton 0. But it didn't bother me as much. Terry and the Cairngorms had saved my sanity.
His next film Life of a Mountain: Scafell Pike was clearly bigger budget and thus a bigger project to boot – and it stepped up the game. Swept away up and down England's highest mountain, this was a masterpiece, with humour, character and simply brilliant film-making. My personal favourite moment is Alan Hinkes' sheer enthusiasm coming through as he takes to the peak – and Terry's use of time-lapse alongside a soundtrack that makes your hair stand on end. Yes, it was sentimental at times, but it worked.
There's no way he could better that, could he?
If Scafell Pike was as close to the perfect outdoor essay you could get then I am simply lost for words on the next film in the series – Life of the Mountain: Blencathra as it raises the bar once again.
It's clear when Terry takes on a project it is fully immersive. He spends hours on the hill. The conduit of the landscape helps tell the story and Terry is a happier man on the fell behind the camera, than in front of it.
This is a much more intimate portrait of one of the Lake District's most famous fells. Terry is the region's Nan Shepherd. It feels less intimidating in terms of scale than Scafell and therefore a lot more personal and real.
I'm purposely not going to reveal spoilers about the film – that is something Terry has asked all his reviewers to d0 – and it would be wrong. People simply need to sit for two hours and enjoy another breathtaking view of this country.
Characters abound once more, but unlike Scafell, the hero is Blencathra or 'saddleback' itself. We're never far away from the mountain and its stunning vista, nooks, crannies, features and admiration. This isn't just a year in the life, it is a love story.
Love of a geological and physical feature and those who interact with it everyday. Terry pulls out every trick in his arsenal to display his and the locals'  affection for Blencathra but it never becomes too much or over-worked. The aerial footage in particular – an oft overused form these days – compliments rather than dominates.
I also prefer the angle of conservation and environment that perhaps Scafell  slightly lacked. There is more 'human' in this.
The music too is absolutely stunning. Shamelessly, it made me fill up at times and married with Terry's endless talent for not only getting the right shot at the right time, but also perfecting a style of editing that any filmmaker would have to applaud, it has you out of your seat.
Terry is going places. Helvellyn is next to be given the Abraham treatment, but in all seriousness, he should have people beating a path to his door with work offers. I would love him to have a crack at the Cuillin on Skye.
This is a must see and I'm humbled to have the opportunity to view it before any one else.
The DVD of the film will be out from May 14 from www.stridingedge.com and on Amazon for £14.99. It will also be on Blu Ray.
For other screenings and information click here.