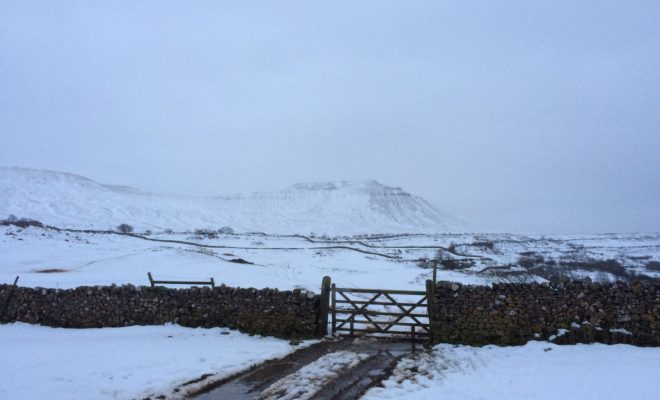 Knowing When To Turn Back
|
The cold wind circled and penetrated every pore.
Icy needles, primed and angry ripped from the sky.
We'd seen it coming. Approaching Ingleborough the ensuing storm had darkened already grey clouds down the valley.
It came at speed, enveloping everything before it like a child furiously colouring in a picture, not paying attention to care, time or form.
Within moments, the snow was swirling all around. Not thick, but frustratingly everywhere with the wind trying to take one's footing away, testing your valour.
In the end it was simply too silly to progress further.
I'd been planning a trip to the Dales for a few weeks to tie in with my birthday; ideally a through caving trip from Calf Holes to Browgill.
When the snow came down that quickly changed to a bimble up Crina Bottom to test out my new Alpkit Brukit and hopefully grab some kind of timelapse video of the stars.
Plans quickly changed and Ingleborough via Southerscales seemed viable, if somewhat wintery, with my friend Johnny Hartnell coming along for the ride.
We'd progressed past the kiln at Philpin Sleights with the vista of Ingleborough spread out before us. Sadly, that's when the weather came in and it seemed sensible to complete a low ground loop and head back to the car.
I'm sure that both our mountain skills could have got us to the top. I know the area very well and Johnny is an expert. But sometimes you just have to say enough is enough and make your way back down.
There's no disgust or embarrassment at turning around. The hill will be there another day.
Sadly, over the winter I've read a few tales of people being stuck on hills – either clinging on to trig points (Grough, March 4) – or simply just getting caught out. The hills in this country are just as susceptible to bad weather as those anywhere in the world.
On Ben Nevis wintry conditions can continue right through to May and beyond.
I've had some cracking times on Ingleborough. I'd navigated off the summit in a white-out before now. And I'll be back soon.
Meanwhile…
Incidentally, I have recently become a member of the Outdoor Writers and Photographers Guild and I would like to thank them for welcoming me into their ranks.
I am also Chairman of the Ice Hockey Journalists' UK, as well as being a member of the Sports Journalists' Association, Rugby League Writers' Association, National Union of Journalists, the Mountain Training Association and the British Mountaineering Council.
Grab this great photo print of Ingleborough in a more sedate but equally as stunning winter scene in my shop.