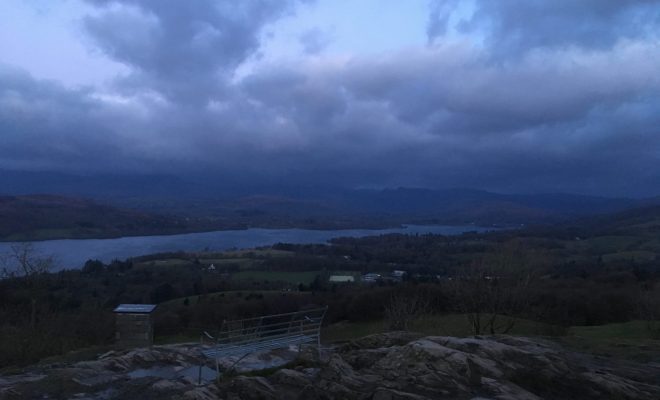 Orrest Head Bivvy
|
It's been a while but I finally knocked off my first Bivvy of 2017 – thanks mainly to the planets aligning and the weather taking a turn for the best.
Heading out of Ingleton late in the evening, we arrived in Windermere with plenty of time to find a car parking spot in what is notoriously a busy place… and to get to the pub.
The Crafty Baa was the drinking establishment of choice and we herded in as soon as we could. On entry ewe're hit by how small the gaff is, no bigger or wider than a terraced house and it has two floors. Heading to the bar you choose from a menu on the left for various craft beers (too much choice for me!) and a small number of 'taps' on the right.
The craft beers went down pretty quickly – you can see the pictures below – and after finishing off four the plan was made to head up Orrest Head to find a good spot. The idea was to catch the stunning views from the top and a starry sky.
My kit list contained the usual – but I'd attempted to lighten up a little.
Sleep system was the Vango Ultralite 600 sleeping bag with Rab Mummy Silk Sleeping Bag Liner. I set this on an Alpkit Numo Sleeping Mat and slotted the whole lot into their wonderful Hunka XL.
Food wise I've found these great packet Mac and Cheese Mug Shots that I'm a little too obsessed with and added some Tuna. All cooked in my Alpkit Brukit. Sadly, Alpkit don't make my version of the stove now. I did have their little Kraku stove just in case too.
Oh and after the scalding water incident on my list trip, I got the Brukit a stand too… oh and put some SealSkinz socks on too.
The whole lot slotted into a Berghaus Torridon 65 alongside the usual camera gear, GoPro and various warm clothes.
The evening was pretty decent; the moon was out and you didn't need a head torch to walk up the trail and pitch a spot.
But that's as good as it got as around 3am the hail came in leaving a very uncomfortable sleep until the morning.
The Hunka is waterproof but with the hood over my head, the condensation of my breath made the inside a little damp. I suppose the moral of the tale is not to breathe.
6am came and it made sense to get up and take in the view. It was grey, wet, incredibly windy but blooming superb!
Bivvies may not be perfect… mine never are really, something always seems to happen, but that view, that solitude in the morning, is worth every suffering.