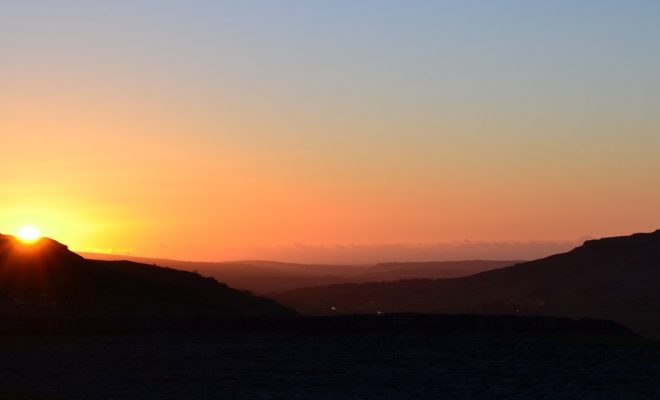 Looking Back… 2014 Reviewed
|
As a writer I endeavour to avoid cliche at all costs.
However, as it is the festive season it would be unfair in a period of tradition not to yield to some of what has gone before.
Therefore, like many other programmes and blogs, it's time to write my review of 2014.
On a personal level, as soon as the clock did indeed strike midnight, I was glad to see the back of the year. It's been 12 months I'd like to forget.
But as they say hindsight is always 20:20 and it wasn't too bad after all.
I took my first ever Wild Camp in March and it really was an enlightening if somewhat cold experience. Finding a spot next to a fairly active waterfall I watched the sun go down, struggled to keep warm, and awoke after a fairly restless night to a pink sunrise.
A month later my fourth book was published.
Yorkshire's Three Peaks: The Inside Story of the Dales was released in April to great reviews.
It is my personal journey into one of the most popular areas of the Yorkshire Dales. I use the traditional 'Three Peaks' walk over Pen-y-Ghent, Whernside and Ingleborough as a roadmap to discover the real story of the Dales.
Along the 26 mile route I interview the folk I meet on the way and find out what makes the area tick, why it is fascinating and how people are ensuring its viability for years to come.
It was a rewarding experience to finally present this work and offer some opinions and views on an area I have been connected to since I was a boy. It received some great reviews too as well as airplay on radio in the Dales and many printed outlets.
It led to the commissioning of my fifth book – 50 Gems of the Yorkshire Dales – which I am penning at the moment.
It charts my favourite places in the Dales and features oddities, natural beauties, historical gems and many other sites I consider to be the best. It is due out in May this year – and you can read a short trip report from November this year here.
October brought the opportunity to put together a documentary on the Three Peaks book in both audio and 'TV' formats.
The audio version features clips from the people I interviewed and passages read by the wonderful Lauren Moss of City Talk 105.9 as well as some of my thoughts whilst walking in its landscape.
You also hear from farmer Gary Middleton, the wonderful Bob Jarman at Ingleborough Cave and Robert Bell who owns Pen-y-ghent.
At around the same time I was approached by two film producers from St.Helens who wanted to make a short film based on the book and my affection for the Dales.
Recording for that has been completed and is now being edited for launch in the next month or so.
Finally, December brought probably the highlight of the year for me – a trip down Yordas Pot.
Johnny Hartnell, who works in Inglesport up in Ingleton offered to give me an alternative view of the cave as it appears as one of my Gems. My route can be seen in the clip above and it was a real night to remember – a real gem.
I also watched the sun going down over Ingleborough… magical.
So here's to another year of Gems, trips underground and enough material for January 1, 2016!